Glacier Sea-Kayaking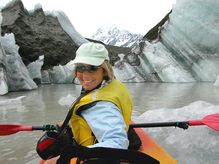 Glacier Kayaking is the ultimate way to experience the magnificence of this world famous national park. At over 750 metres above sea level you can become part of the environment, paddle beneath towering glaciated mountains and view the majestic glaciers and summit of the mighty Aoraki Mount Cook.
Leave the crowds behind and explore the nooks and crannies of the glacier lakes, getting up close and personal with a variety of wildlife and ice bergs - yes icebergs!!!!
All the trips are fully guided and our guides have a vast knowledge of the area and all its inhabitants. Our trips suit all levels of kayakers from beginners to very experienced paddlers. We are the only glacier kayaking company in New Zealand and we aim to provide you with the best possible outdoor experience naturally!
Photo below - Kayakers on the Tasman glacier Lake
---
Mueller Glacier Lake
Three hour long trip
$140 per person
The Mueller Glacier Lake Trip departs at: 2pm.
Embark upon our adventure on the pristine waters of the Mueller Glacier Lake nestled amongst New Zealand's highest peaks. Accessible to most levels of ability our experienced guides will take you past the roaring Hooker river to the face of the Mueller Glacier. Listen to the sound of avalanches thundering off of the nearby Mt Sefton as you look out for the icebergs, glacier calving and stunning aquamarine sinkholes that are commonly found on this trip. Deep blue glacier pools. Gaze in awe at the nearby slopes of Aoraki-Mt Cook as you explore this constantly changing and evolving lake. There is always something exciting to see on this 6 square km lake. At the moment we can get very close the to Mueller Glacier terminal face!!!! All our sea kayaks are equipped with outriggers for perfect stability. We call these "Floaties".
---

Tasman Glacier Lake
Half Day Trip
$145 per person
The Tasman Glacier Lake Trips depart at: 10am - 2pm (peak season)
This trip is an adventure for the kayaker with some previous experience and provides an opportunity to meet the massifs of the mountains face to face. New Zealand's longest glacier winds its way down the Southern Alps for nearly 30km before culminating in the 18 square km terminal lake. The transition from glacier to lake produces impressive icebergs on a regular basis; this truly is 'Big Iceberg Country'. Launch into the trip of a lifetime as you push away from shore to explore the wonders of nature's creation. A safety boat remains on standby at all times. Kayaks on all trips are fitted with sturdy outriggers to guarantee stability. This is a fantastic adventure.
Google Tasman Glacier Sea Kayaking on YouTube for some informative footage. If you're interested in paddling both the Tasman and Mueller we offer a special price to do both trips.
---
Bookings
Bookings are essential for these classic day tours.
Contact Glacier Kayaking trips depart from The Old Mountaineers Cafe, Bar and Restaurant - Next door to the Department of Conservation Visitor Information Centre
You should bring: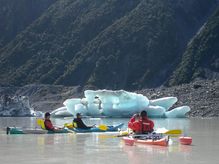 Sun Cream
Sun Hat
Sun Glasses
Wind Shell
Walking Shoes/Runners
Snacks & Water
Camera
Season: from early October to the 30 April.
Contact Charlie Hobbs through our Contact Page or ph +64 3 435 1890. After hours 0274342277 ph or text.
Email: mountcook@xtra.co.nz
---
Frequently Asked Questions
Is sea kayaking for me?
Yes- if you want to experience Aoraki Mount Cook the Eco friendly way, escape the crowds and explore the glacier lakes at your own pace from the comfort of our safe stable sea kayaks fitted with outrigger stabilisers for maximum stability.
Can I rent a kayak?
Short answer - NO.
Our concession with the Department of Conservation to operate in the Aoraki Mount Cook National Park does not allow rental options. Trips are guided to ensure your safety.
How fit do I need to be?
If you are reasonably active you will find our trips fairly easy.
What if the weather is bad?
Bad weather for us is excessively strong wind usually caused by a westerly frontal system coming off the Tasman Sea, crossing the main divide of the Southern Alps and then creating strong winds and rain/snow in the Aoraki Mount Cook National Park. The senior guide of the day will make the weather call for the day.
What do I need to take?
A camera, sun cream, good walking shoes, sunglasses, sun hat, warm clothing, rain jacket, personal medication, snack food.
Will I capsize?
This would be very unlikely. All of our sea kayaks are equipped with outrigger stabilisers (we call them "Floaties"). They are adjustable to varying lengths for all types of conditions. You will receive a full safety briefing prior to the trip commencing.
What is the difference between a speed boat cruise and a kayak trip on the glacier lakes?
There is no comparison!!!! Our sea kayaks can go places speed boats can't go. We can visit the "nooks and crannies" of the glacier lakes that only small craft like sea kayaks can get into. You will escape the crowds and the drone of motorised boats. Our groups are small, only up to 8 people with their personal guide.
What do you supply?
We provide some specialist paddling apparel including buoyancy aid, spray skirt, spray jacket. Our Tasman Glacier Kayaking has a safety boat on standby for your extra security.
What's your cancellation policy?
We reserve the right to cancel or change any part of any kayaking trip. This could be due to, but limited to adverse lake, river, road or weather conditions. We have a strict 24 hour cancellation policy which means that if WE cancel the trip due to any of the above conditions will give you a full refund. If you decide not to do the trip within 24 hours of the trip start time for any reason (you sleep in, have a vehicle breakdown, an unexpected illness or injury etc) or we cancel your booking because of client unsuitability due to poor fitness or health there will be no refund. Please ensure you have travel insurance to cover all potential cancellation scenarios.