SKI THE TASMAN GLACIER
WITH SOUTHERN ALPS GUIDING
Skiing in the Aoraki Mount Cook Ski Region with Southern Alps Guiding is the ultimate adventure. Southern Alps Guiding is now in its 31st year of operation and continues to deliver a professional high quality service to our customers. Charlie Hobbs, lead guide and owner, has over 30 years of guiding experience in this area. He is an internationally qualified Mountain and Ski Guide IFMGA/UIAGM. He will guide you on this special day. You'll enjoy being guided by Charlie because he loves being in his "office" and knows every nook and cranny on the glacier. We'll take you to all the special locations on the Tasman Glacier.
You don't have to be an expert to ski the Tasman Glacier. The skiing terrain is ideal for intermediate skiers.
Tasman Glacier Skiing
---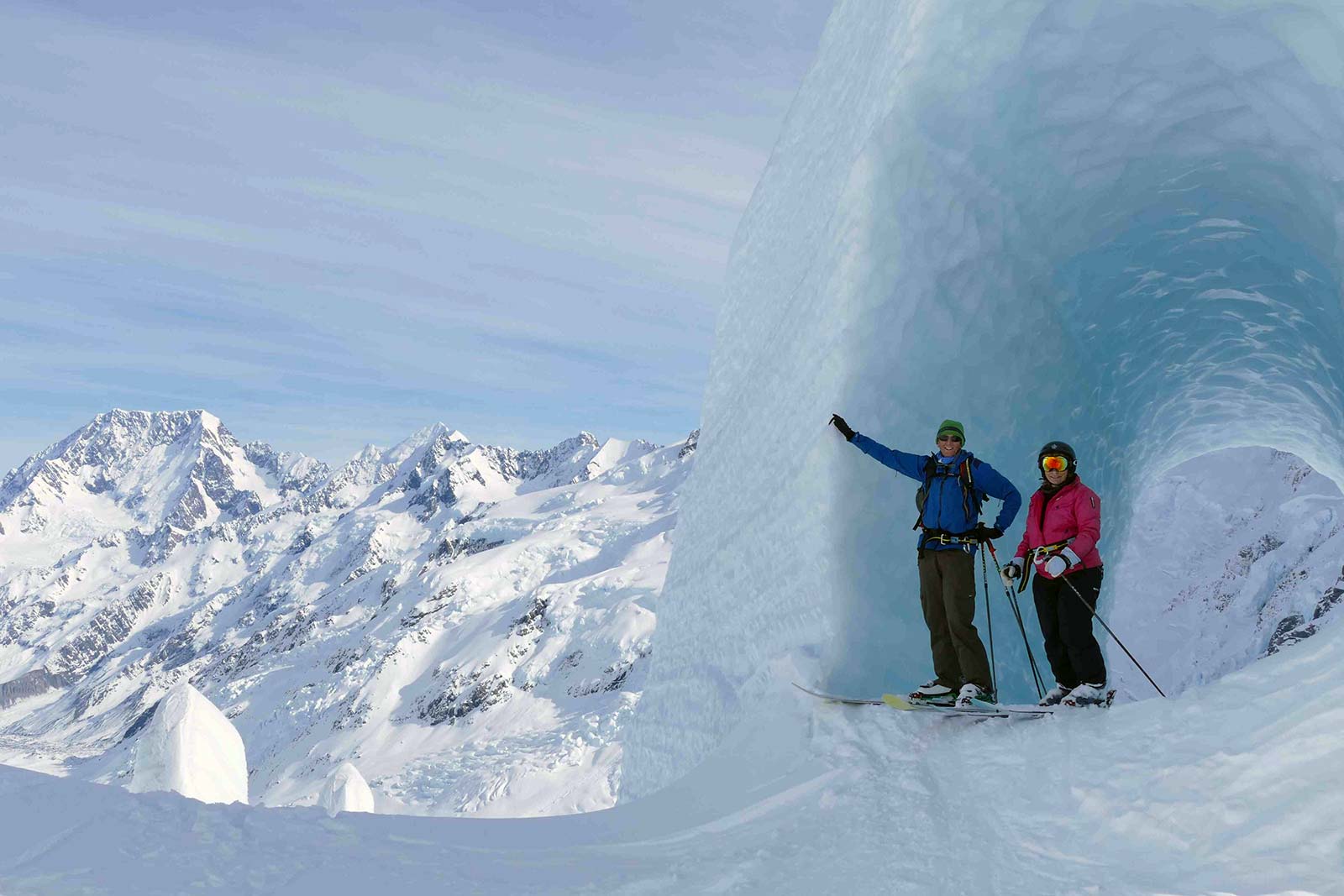 Tasman Glacier Skiing in Aoraki Mount Cook National Park.
New Zealand's longest ski runs with panoramic scenery of the biggest mountains and glaciers in the country. Aoraki Mount Cook dominates this awe inspiring landscape. We think of it as the "8th Wonder of the World." Many people have this trip on their "bucket list" of things to do.
Above: Unbelievable ice caves.
The world-famous Tasman Glacier is 29km long and flows among the highest mountains in New Zealand. Fly into the heart of the Southern Alps and land at the head of the Tasman Glacier in the famous ski-equipped ski plane. Visit incredible ice caves, peer into deep crevasses (from a safe viewing point) and visit glacial canyons. The skyscrapper sized ice blocks are an amazing site.
Then onto a 8-12km ski run to your awaiting aircraft. "Get in, buckle up and start again". Explore a different distant corner of this great glacier for another lengthy ski run. After our second "long" ski-run we finish off with a scenic flight back to Aoraki Mt Cook airport. It's then off to the Old Mountaineers for refreshments. We have "fat skis" available for hire which make your day on the Tasman Glacier much more enjoyable.
Tasman Glacier Skiing includes two "very long" ski runs of up to 8-12kms each run, professional guide service, lunch, 3 scenic aircraft flights, safety equipment, GST & DOC permit fees. We use Skiplanes for this trip but can use a helicopter if skiplanes are unable to fly on the day at extra cost.
Cost: $995 per Adult. Kids $825 (10-15 years)(top of page to book)
Please note prices indicated with the * are only applicable if paid directly to Southern Alps Guiding and not through an agent or ticketing office.
---
Above: Intermediate skiing through the Ice Canyons.
Long glacier runs!
A great family adventure on the Tasman Glacier - Ski the Tasman.
HERE'S WHY WE HAVE SO MUCH SNOW ON THE TASMAN GLACIER!
---
Heli Skiing
Glacier Heli Skiing
Visit our heli Ski page for exciting Glacier Heli Skiing options from the high ridges of the the Southern Alps.
Glacier Heli Skiing and Tasman Glacier Heli Ski areas include:
The Tasman Glacier Region:
Hochstetter Shoulder 2635m (8645ft) 1135 vertical metres. Run lengths 10-12km
Aylmer Col 2628m (8622ft). Run lengths 10-12km
The Murchison Glacier:
Aylmer Col - Tasman Saddle/Headwall 2628m (7988ft) 1275 veritcal metres. Run length 10km
The Mannering Glacier: Via Taman Saddle and Starvation Saddle 2210m (7251ft). Run length 5km
Darwin Glacier Bowls: 2327m (7634ft) 850 vertical metres. Run lengths 5.5km 2346m (7697ft) and run length 6km
Richardson Glacier at 2100m, (just outside the park). Run length of 5.5km.
Join us on our EXCLUSIVE heli ski runs at the head of the Tasman Glacier in the Aoraki Mt Cook National Park.
We also operate Heli Skiing in the Hopkins Valley and the Black Hills in the Ruataniwha Conservation Estate.
Go to our Heli Skiing page for more information on our fantastic heli skiing options.
---
---
---
Reservations
Reservations should be made with Southern Alps Guiding. Our office is based in the Old Mountaineers Cafe Bar, 3 Larch Grove, Aoraki Mt Cook. Next door to the DOC Visitor information Centre. ph: 0274342277
Tasman Glacier Skiing is a once-in-a-lifetime trip and spaces are at a premium. Early bookings are essential and must be reconfirmed the day before your ski trip.
All trips depart from The Old Mountaineers' Cafe, Bar and Restaurant next door to the Department of Conservation Visitor information centre. Tasman Glacier Skiing operates between July 1 and October 31. Minimum numbers required. See our Contact Page.
Guides: Our guides are certified through the NZ Mountain Guides Association and the IFMGA.
We are Safety Audit Cetified and DOC Approved.
"Southern Alps Guiding Ltd works with the Department of Conservation (DOC) to ensure that our impact on New Zealand's National Parks and reserves is minimal. We are an approved concession holder, ensuring that your visit with us to conservation lands adheres to best practice and contributes to the management of these protected areas"
---
Other Information
What equipment to bring
Bring along your down hill skiing equipment. Warm ski gear is essential. Sunblock, camera. A small day pack comes in handy. Ski helmets are welcomed. Sorry - no snow boarders on the Tasman Glacier Skiing trip BUT we do take boarders on the Tasman Glacier Heli Ski Day trip and Glacier Heli Skiing trips.
Travelling to Mt Cook Airport
You can ski on the glaciers with us for the day from Christchurch, Methven, Queenstown or Wanaka. We can organise a personal charter flight from these areas. If you prefer driving, travel times range between

2.5 to 3.5 hours.
Accomodation
There is a good range of accommodation at Aoraki Mount Cook. We can send you a list of providers with good winter deals.
Snow Reports
Glacier Skiing and Glacier Heliskiing updates - call or text on 027 434 2277.
Email: mountcook@xtra.co.nz
CANCELLATION POLICY
We reserve the right to cancel or change any part of any trip. This could be due to adverse snow,avalanche, mountain or weather conditions or any other mountain related scenario. We have a strict 24 hour cancellation policy which means that if WE cancel the trip due to any of the above conditions will give you a full refund. If you decide not to do the trip within 24 hours of the trip start time for any reason (you sleep in, have a vehicle breakdown, an unexpected illness or injury etc) or we cancel your booking because of client unsuitability due to poor fitness or health there will be no refund. Please ensure you have travel insurance to cover all potential cancellation scenarios.