Heli Skiing
Ben Ohau Heli Skiing
We heliski in some of the most spectacular alpine terrain in NZ. The Ben Ohau Range, just outside the Aoraki Mount Cook National Park, offers some of the longest vertical and exciting skiing in NZ and is the area where Heli skiing first started in New Zealand.
Skiers and boarders should report to our base at the Old Mountaineers Cafe at Aoraki Mt Cook next door to the DOC visitor info centre. From here you will receive a full safety briefing on all aspects of the day's operation. Your group is led by their own professional guide during the day. We ski in small groups.
Cost is $850 per person. Bookings & confirmations are essential.
Price includes 4 heli ski runs, professional guide service, lunch, safety equipment, GST and permit fees.
Extra runs $125 per run.

If you are an intermediate skier and want to "get your ski legs" we can offer two 8-12km ski runs down the mighty Tasman Glacier as a warm up to heli skiing. This is suitable for skiers only. See our Tasman Glacier skiing link for information on pricing.
Private Charter
Discerning skiers and boarders have the option to charter and hire their own private helicopter and guide and escape into the mountains for a day (or more!!) of private, guided heliskiing or boarding.You can clock up as much vertical as your budget allows.
Charter Heliski Pricing:
Charter pricing is based on a fixed rate for helicopter flying time used.
1 Hour Fly Time – Mt Cook Charter
$4999.00 per group of 5
(1 hours fly time gives your group up to 8 runs each. Fixed price based on a group of 4-5)
1.5 Hours Fly Time – Mt Cook Charter
$5999.00 per group of 5
(1.5 hours fly time gives your group up to 10-12 run each. Fixed price based on a group of 4-5)
2 Hours Fly Time – Mt Cook Charter
$6999.00 per group of 5
(2 hours fly time gives your group up to 13-15 runs each. Fixed price based on a group of 4-5)
Extra Fly Time
$1400.00 per half hour
(Extra fly time available at the rate of $1400.00 per half hour).
________________________________________
Private Charter price includes: guide fees, helicopter charter, lunch, all fees and permits, safety equipment and GST.
---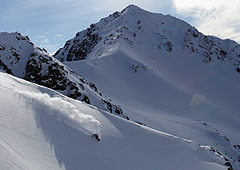 The Climate
Helicopter skiing takes us into the high mountain ranges. You can therefore experience (sometimes even on the same day) excellent powder, breakable crust, or corn snow. Statistically, we ski good to excellent snow 75% of the time. In general expect powder from July to early September and spring snow from September to early November.
Because New Zealand has a maritime climate with very high mountains close to the sea, the weather can be unpredictable so you may not be able to ski at all, particularly if you have a tight itinerary. Flexibility is the key to getting the best heliskiing.
---
You Can Heli Ski!
You don't have to own your own powder skis, talk to us and we can happily arrange hire of powder skis. Wide skis or powder skis are essential items for heliskiing. Our guides are expert skiers and we use powder skis. Powder skis allow you to ski a wide range of snow conditions, faster, easier and with more stability. This means more fun in the powder.
Our guides are happy to help improve your skiing or boarding standard, and can offer tips in soft snow. Warm, windproof clothing, with good gloves, sunglasses and hat are essential. You ski or board in a very high alpine region, so warm clothing is of prime importance.
We have exclusive access to extensive terrain just outside the Aoraki Mount Cook National Park. Easy rolling terrain for powder first timers, wide open bowls and challenging chutes with steep valleys for the more experienced. You'll be part of a small group led by a guide who is committed to your safety and enjoyment of this alpine environment.
Heli-Skiing is often wrongly perceived as extreme skiing and boarding only suitable for expert skiers and riders.
We have terrain to suit a wide range of abilities from gentle rolling powder bowls to challenging steeper
terrain. If you can ski or /ride blue runs on your local ski area then you can Heli-Ski.
The scale below will help you to identify what level of skier/boarder you are, and will help us to deliver an optimal day
for you by allowing us to match your ability with the right terrain, conditions and heli-package. Let us know what level you fit into.

Heli 1
Intermediate Skier/Rider
You ski/ride the blue runs, only sometimes go off piste, have little or no powder experience and ski up to 10 days per season.

Heli 2
Intermediate to Advanced Skier/Rider
You ski/ride the blue runs and some easier black runs, sometimes go off piste in good conditions, have some powder experience and ski 10-20 days per season.
Heli 3
Advanced Skier/Rider
You mainly ski/ride black runs, go off piste most of the time, have many days of powder experience and ski/ride over 20 days per season.
Heli 4
Expert Skier/Rider
You always ski/ride black and double black runs, you almost only ever ski/ride off piste, you are an accomplished powder and all snow condition skier/rider. You ski/ride 40 days plus per season.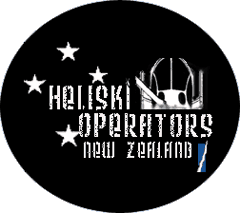 We are a member of the the New Zealand Heliski Operators Group. Our Guides are IFMGA/NZMGA.
Contact us at mountcook@xtra.co.nz or phone 03 4351890